Breast cancer: 'Many men are oblivious they can get breast cancer' - BBC News
By Matt Murray Peter Shuttleworth BBC News
Media caption,
Mark and Pat James say they were both lucky to catch the symptoms early.
Pat and Mark James know they are a lucky couple. Both have survived breast cancer.
Grandmother Pat's diagnosis perhaps is not so unusual as it is the UK's most common cause of cancer among women.
But what some find "gobsmacking" is that husband Mark has had it. He is one of 370 men among almost 56,000 people diagnosed with breast cancer in the UK every year.
"Many men are oblivious that they can get breast cancer," said Mark, 79.
"I'd not heard about it before I got it," said the grandfather from south Wales who, like his wife, wants to raise awareness of the illness.
He urged men to put their "embarrassment" to one side and examine their chest for possible abnormalities.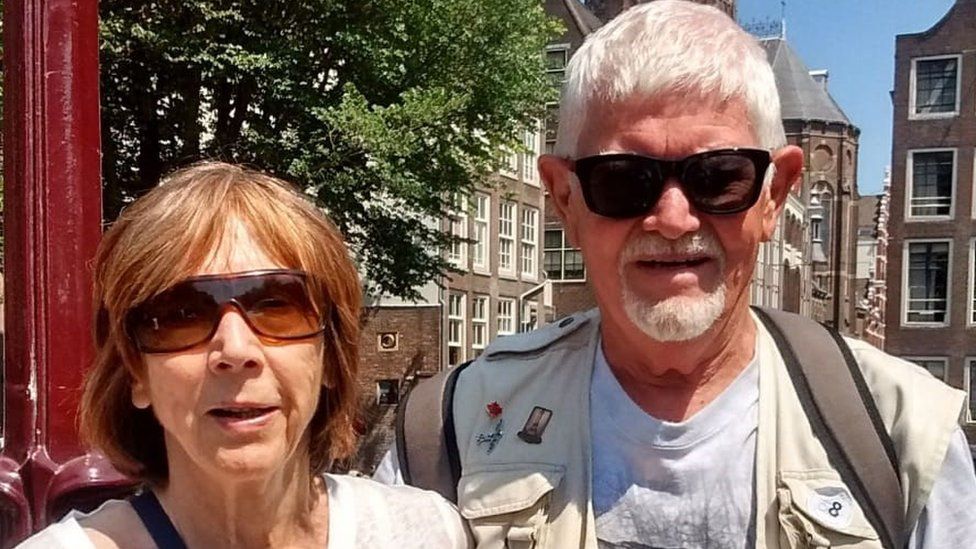 Image source, Mark and Pat James
Image caption,
Pat and Mark James want to raise awareness that breast cancer can affect men as well as women
"Most think it is a cancer only women can get and that may be because much of the awareness campaigns are aimed at women - with pink campaigns," said the former Army reservist.
"But men need to know they can get it, and die from it, too. It, like in women, needs to be caught early."
Pat had the "trauma" of breast cancer 40 years ago when their two children were small. She had a swift diagnosis, followed by surgery and was able to help Mark through his own ordeal four years ago.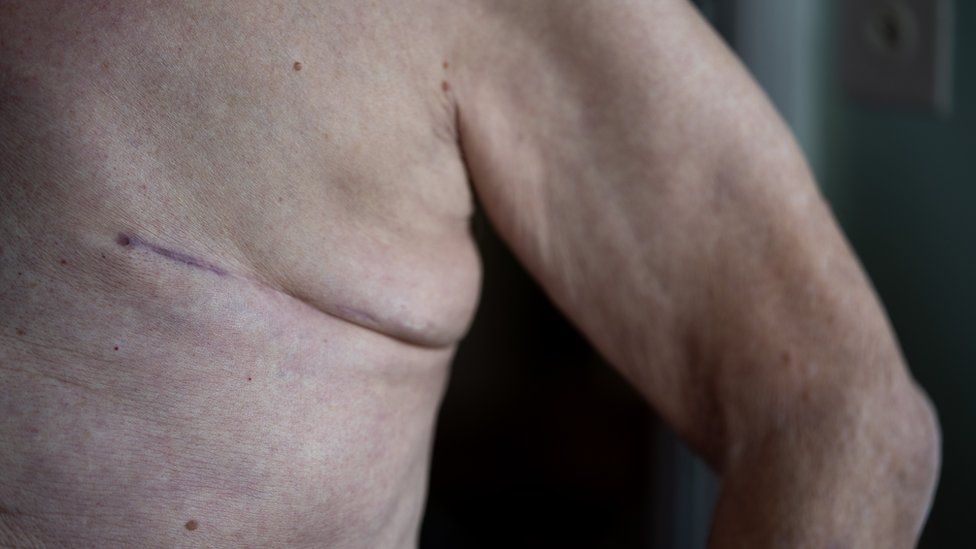 Image source, Mark and Pat James
Image caption,
Mark saw a cancer consultant within weeks of noticing a lump on his left nipple
"Men haven't even thought about getting breast cancer," said Pat, a line dancing teacher who lives in the seaside resort of Porthcawl.
"It was a shock but it was important to get an early diagnosis."
Pat and Mark spoke during male breast cancer awareness week, as Cancer Research UK data shows about 370 men in the UK get the disease every year.
On average, men make up about one of 150 new breast cancer cases diagnosed every day.
So while breast cancer is the UK's most common cause of cancer, in men it is a relatively rare condition.
"Men don't use the word breast in respect of themselves," said Mark, a retired architectural illustrator.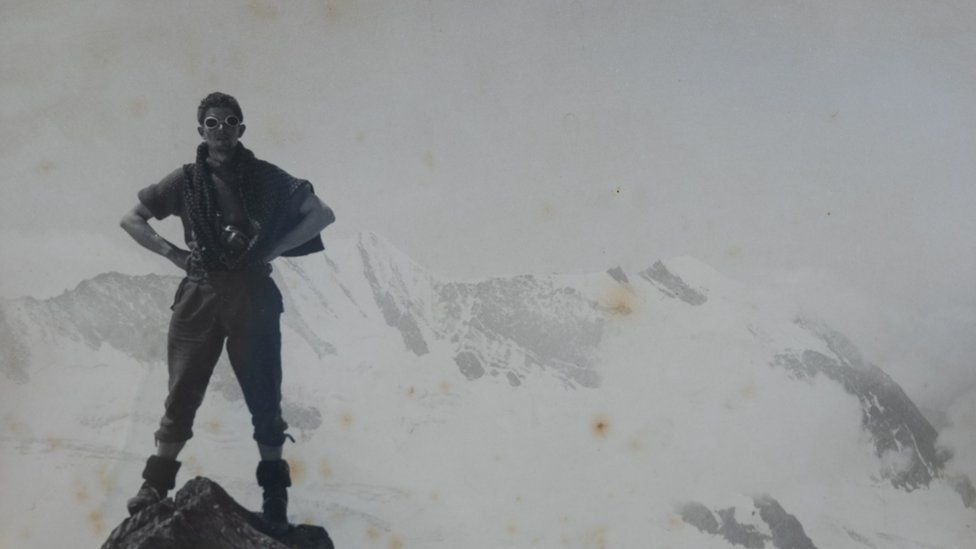 Image source, Mark and Pat James
Image caption,
Army Reserve veteran and keen mountaineer Mark James still goes to the gym regularly
"For many men, if they had something a bit funny going on around their chest, they would just not be conscious that it could be breast cancer.
"Some of the conversations I've had have been gobsmacking. If I tell them I've had breast cancer, they don't understand it.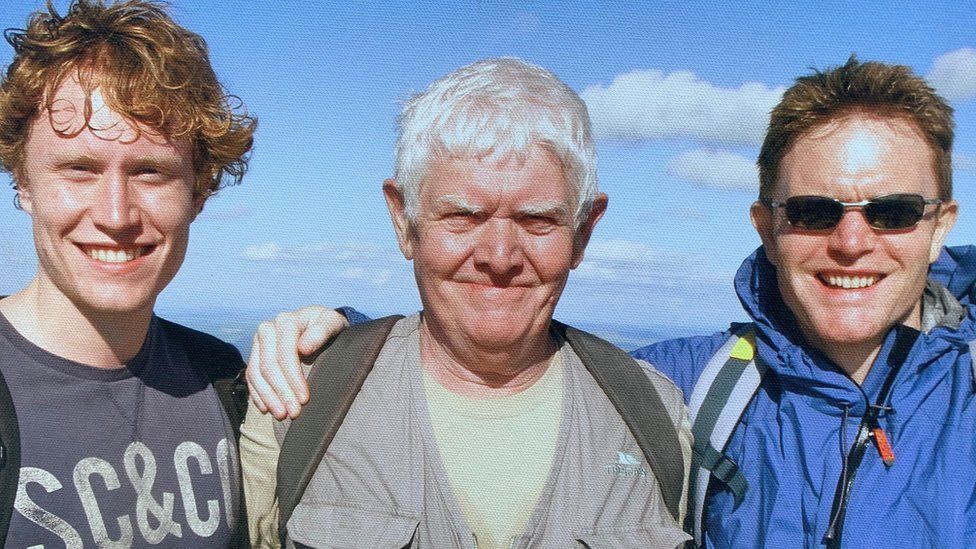 Image source, Mark and Pat James
Image caption,
Mark James' son Steven and grandson Keiran have regular check-ups due to the family history of breast cancer
"Plus there's a view that if a man has breast cancer, you're somehow not a man. It's this macho business. I've had breast cancer, so what."
Both Mark's mother and sister have also had breast cancer, and researchers say both men and women with a strong family history of breast cancer are at an increased risk.
"There's a very strong message out there for women to check their breasts and most women are aware," said Tenovus Cancer Care chief executive Judi Rhys.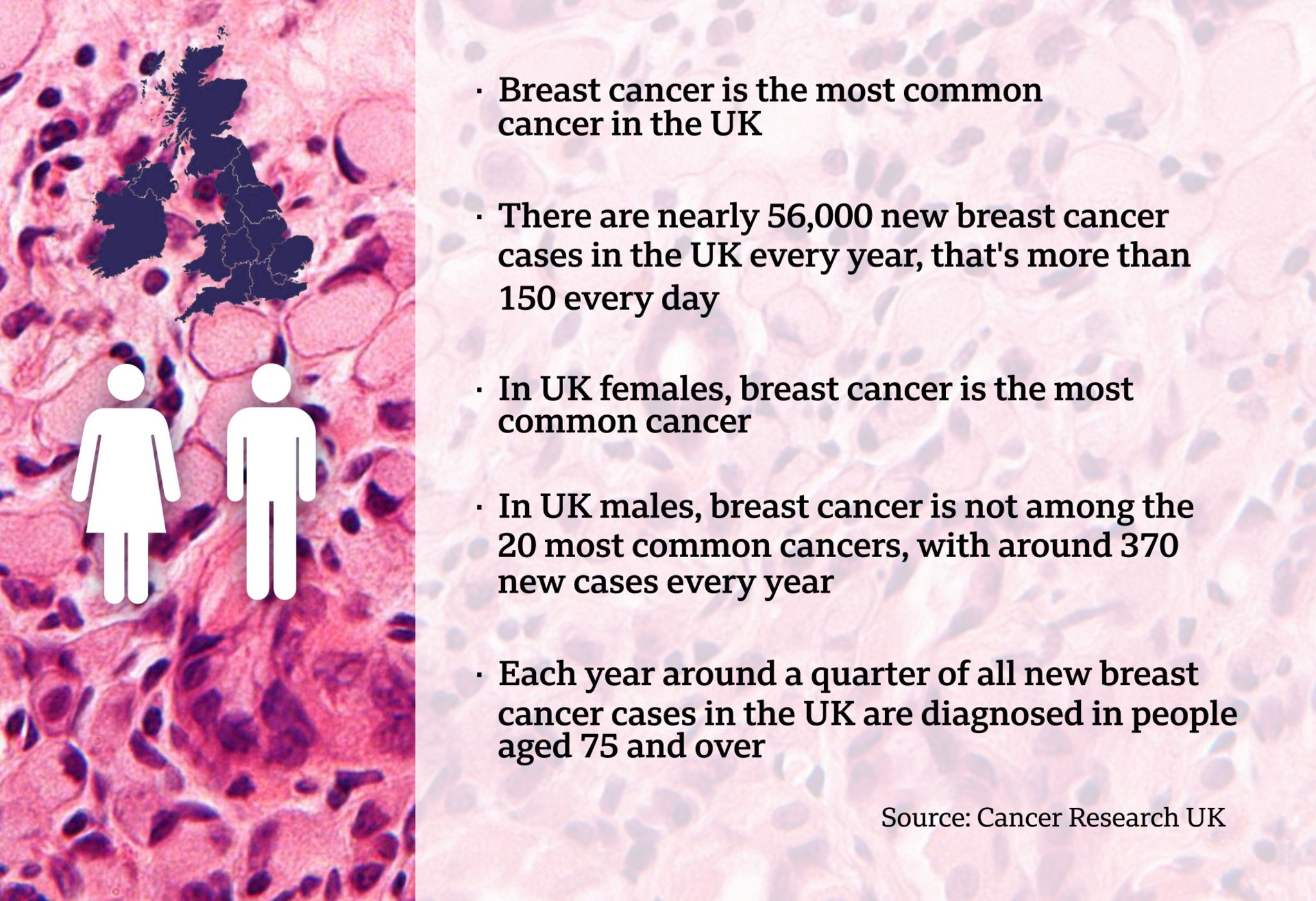 "But men simply don't do that because they are not aware.
"So if there are any changes in the nipple area, men may just ignore them and think it's nothing - then it's left to develop, that's why breast cancer among men is often late diagnosed."
Mark was having a consultation before a hernia operation in May 2017 when a nurse first noticed something was wrong and advised him to get it checked out.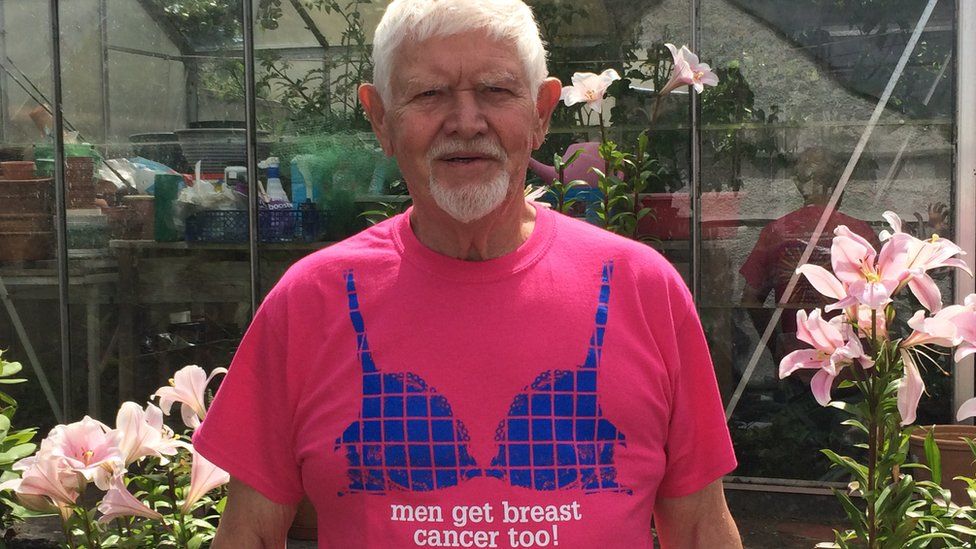 Image source, Tenovus Cancer Care
Image caption,
Mark James supports awareness charities, including Walk the Walk's Men Get Breast Cancer Too campaign
Within weeks, he had his diagnosis of type 2 breast cancer and was back at hospital in nearby Bridgend having surgery.
"We've been lucky and we've been made aware of it and we acted to do something about it," said Mark.
"It's diagnosis, diagnosis, diagnosis for me. Just get rid of the bloody thing."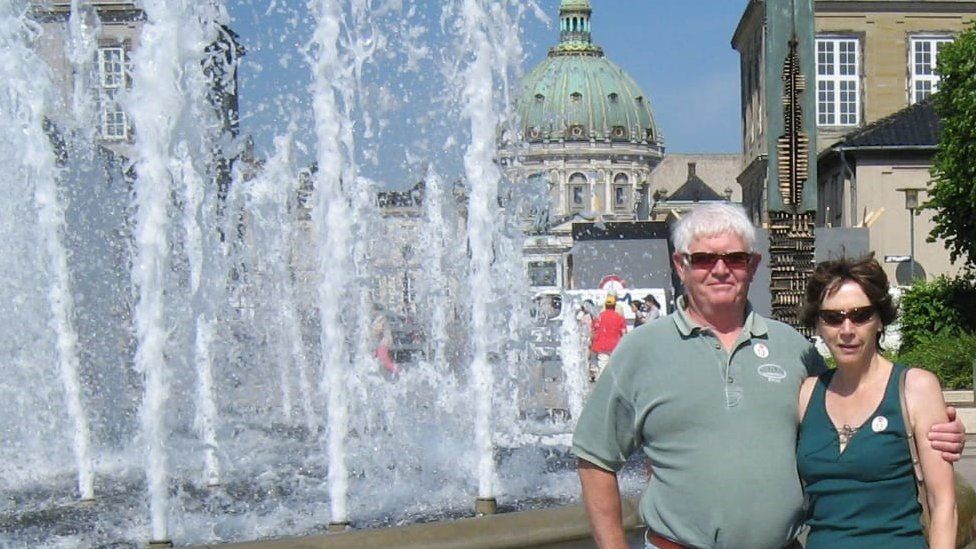 Image source, Mark and Pat James
Image caption,
Mark and Pat James feel very lucky that their breast cancers were spotted and dealt with early
Breast cancer is rare in men and usually affects over-50s. There is currently little research and no routine screening specifically for men.
"Men have breast tissue exactly the same way women do," said Zoe Barber, consultant oncoplastic breast surgeon at Princess of Wales Hospital in Bridgend.
"It's just not as big and it's subject to the same hormonal changes which happen with age. Similarly, medication can change men's breasts as well and men do need to be just as aware of breast changes as women do.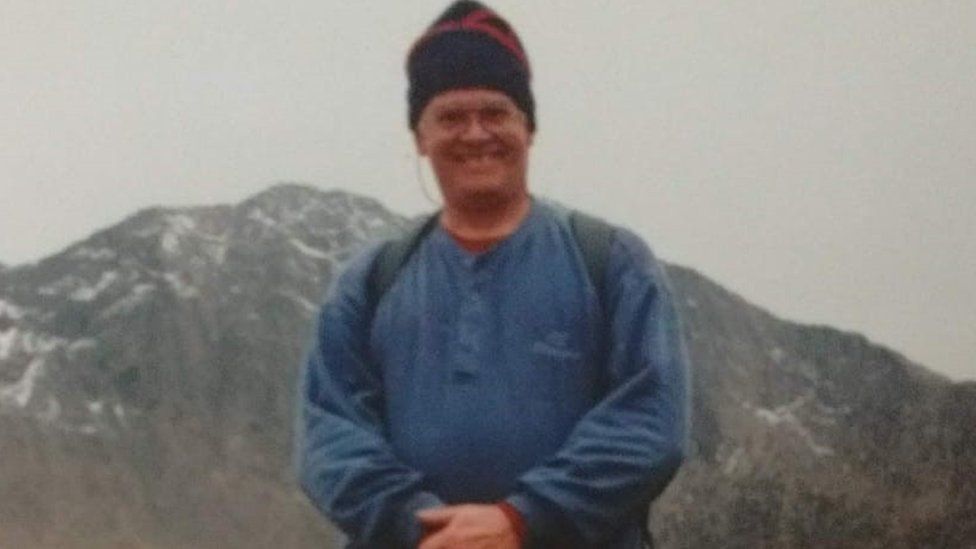 Image source, Mark and Pat James
Image caption,
Mark James spends a lot of his spare time walking with wife Pat
"Men can also undergo a mastectomy which is an operation where we take all of the breast tissue away normally with nipple and areola, which is the darker skin around the nipple. This is a common operation to treat breast cancer on men and women."
Mark still has an annual mammogram and the keen mountaineer takes daily medication while his children have regular check-ups because of the family history.
"I do think for men they should call it chest cancer," said Pat. "As it's something men will understand then."


More on this story