Ex-addict says charity treatment in Dudley 'keys to new life' - BBC News
Media caption,
Drug treatment 'like being given a new life'
A recovering heroin addict says a new, slow-release drug treatment is like being "given the keys to a new life".
Phil, 41, from Brierley Hill in the West Midlands, said although heroin led to him "losing everything", he still did not stop.
The normal methadone treatment did not work either, and he said he used it to "fill gaps" between heroin fixes.
He is now one of 23 people having new treatment that is being trialled in the region for the first time.
Despite becoming a "full-blown junkie" by the age of 15, he has a job and, after four years of being clean and counting, says: "I don't know how to tell you just how brilliant Buvidal is."
Buvidal is a development in the treatment of addiction to opiates in the form of a monthly injection.
It has already been trialled in parts of the UK, and charity Change, Grow, Live is running trials in Dudley, Walsall and Birmingham through funding from the former public health agency Public Health England.
The monthly injections free Phil from daily pharmacy visits to collect methadone or another daily form of treatment.
He said: "It's like being given the keys to a brand new house and saying 'there you go, go and make a life for yourself'."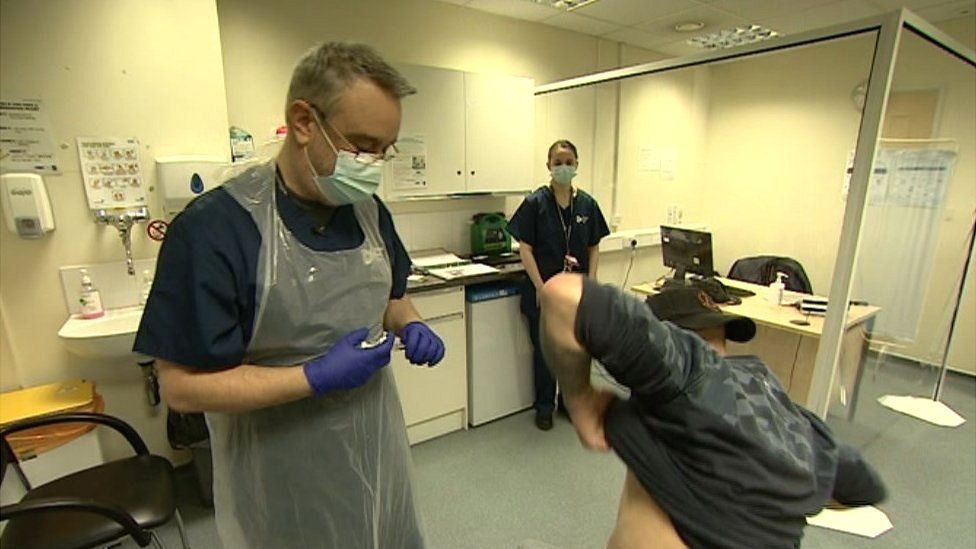 Image caption,
Patients are injected with Buvidal in their stomachs
Deaths from drug-related poisonings in the West Midlands in 2020 reached a record high at 433 - a 75% increase on 2010, according to figures from the Office of National Statistics.
Heroin and morphine deaths increased by 95% over the same period.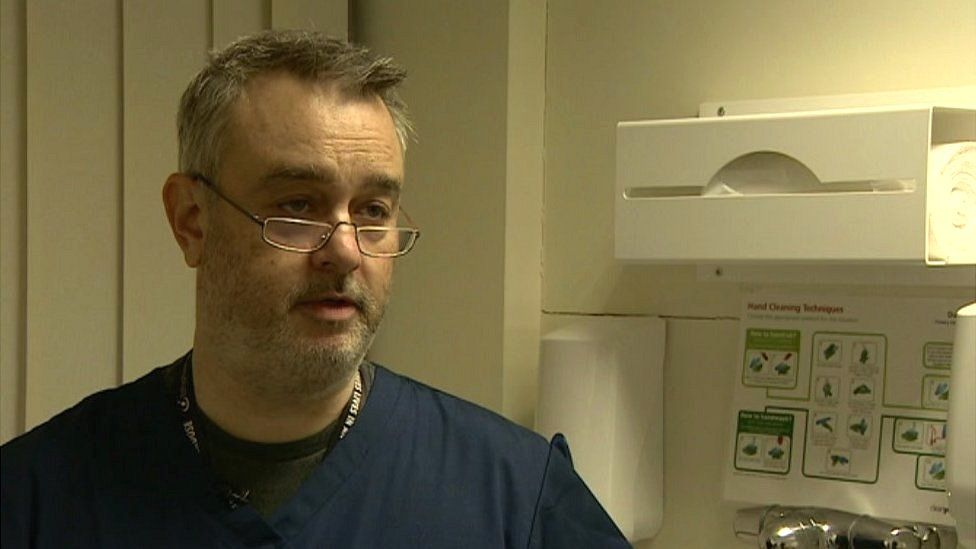 Image caption,
Jonathan Carlholt said it was 'wonderful' to see the positive effect the treatment was having on people's lives
Jonathan Carlholt, community psychiatric nurse with the charity, said the drug binds to receptors in the brain and also partially blocks opiates as well as reducing the risk of people overdosing.
Daily medicines wear off after 24 hours, meaning users start to go into withdrawal, whereas Buvidal, he said, works straight away and tapers away over a longer period, keeping addicts in a "narrow therapeutic level".
He said: "People that are on it are staying on it, they're not dropping off... and they're loving it. They're coming in happy and it's lovely to see."
The charity said it would like it to be a frontline treatment, but funding is due to stop next year.
Anji Burford, services manager for the charity, said she hoped the rollout would continue and increase to enable more former drug addicts to try it.
"I've worked in substance misuse for over 20 years and Buvidal is an absolute gamechanger for all the people we've seen inducted into the programme" she said.

Follow BBC West Midlands on Facebook , Twitter and Instagram . Send your story ideas to: [email protected]
More on this story
Related Internet Links
The BBC is not responsible for the content of external sites.