HEALTH CARE BRIEFING: Biden's Delta Struggles Loom Over Agenda | Bloomberg Government - Bloomberg Government
President Joe Biden is struggling with a surge in coronavirus cases, an impending wave of evictions and spikes in consumer prices that have left the White House looking unprepared—and threaten to undercut months of more sure-handed work on the Covid-19 pandemic. The president surprised Congress last week with a last-minute plea to extend a federal evictions ban, mere days before the moratorium's expiration, leaving lawmakers little time to act.
Federal authorities also last week recommended that Americans resume wearing masks in indoor public places to curb the delta variant's rapid spread, an outbreak telegraphed a month ago when cases started climbing in under-vaccinated parts of the South and Midwest. Biden implored vaccine holdouts to get the shot, even offering them $100 and warning federal workers they'd have to wear masks, socially distance and restrict their travel if they refuse.
The moves reinforced the impression that the Biden administration was somehow caught off-guard by delta, after the president had previously won high marks in opinion surveys for his handling of the pandemic. The sudden eviction chaos, coupled with the pandemic's comeback and Biden's response, overshadowed a major achievement earlier in the week when the president sealed an agreement across party lines for a $550 billion public works bill, one of his top priorities. Read more from Jordan Fabian.
Related: After Failed Bid, Pelosi Says CDC Can Extend the Eviction Moratorium
With the end of the federal eviction moratorium at hand in the U.S., researchers fear a rush of evictions will hit unvaccinated communities hard, potentially exacerbating a new pandemic wave. Evictions touch households beyond those who receive an order to vacate. Evicted people often double-up, moving in with friends or family, or going to shelters. This makes for more crowding and creating more exposure opportunities.
One model predicted a 150% increase in infection risk for people who double-up. According to its preliminary findings, a two- to five-fold increase in evictions would result in a 0.9–2.6% increase in infections—meaning tens of thousands of extra cases and many more deaths, especially for communities of people that have low vaccine uptake. Read more from Kriston Capps, Marie Patine, and Jeremy Diamond.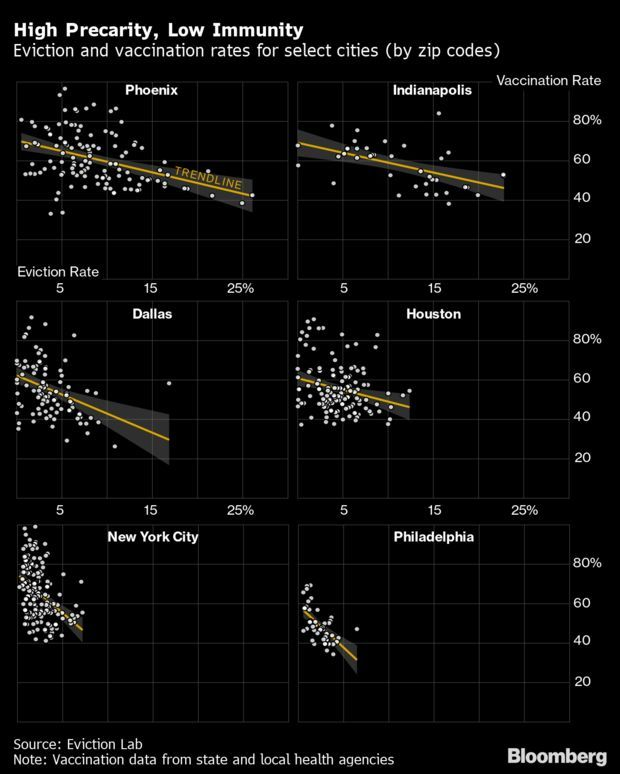 Also on Lawmakers' Radars
HELP Markup: The Senate Health, Education, Labor and Pensions Committee is scheduled tomorrow to mark up four bills including:
S. 1486, to eliminate discrimination and promote women's health and economic security by ensuring reasonable workplace accommodations for workers whose ability to perform the functions of a job are limited by pregnancy, childbirth, or a related medical condition; and
S. 1543, to provide best practices on student suicide awareness and prevention training and to condition state educational agencies, local educational agencies, and tribal educational agencies to establish and implement a school-based student suicide awareness and prevention training policy.
Expanded Medicare Benefits Plan Raises Equity Questions: Congressional Democrats' plan to add hearing, vision, and dental coverage to Medicare is stirring debate about its potential effects on low-income beneficiaries and whether it advances the push for health equity. Given HHS Secretary Xavier Becerra's push for equity in federal health programs, some argue the plan—which could cost $358 billion over 10 years—would better cut disparities if it was targeted to the needy. Tony Pugh has more.
More on the Pandemic
CDC Scaled Back Breakthrough Case Hunt: The U.S. agency leading the fight against Covid-19 gave up a crucial surveillance tool tracking the effectiveness of vaccines just as the far more transmissible delta variant was emerging. While the Centers for Disease Control and Prevention stopped comprehensively tracking what are known as virus breakthrough cases in May, the consequences are only now starting to show. At the time the CDC saw only 10,262 such cases in the U.S. But weeks later, that number has grown.
And while the CDC has stopped tracking them, many states have not. Bloomberg gathered data from 35 states and found 111,748 breakthrough cases through the end of July, over 10 times the CDC's April tally. With 170 million Americans vaccinated, virus cases in vaccinated people are expected. But the decision to not track mild or asymptomatic cases is now being questioned, including by state officials dealing with the virus on the front lines. Read more from Drew Armstrong, Rebecca Torrence, and Fiona Rutherford.
Anthony Fauci, the nation's top infectious-disease doctor, said that the Covid-19 vaccines work extremely well and that a return to the lockdowns of 2020 is not likely despite reports of recent outbreaks among vaccinated people. "The likelihood of your getting a severe outcome of the infection is very low" when a person is fully inoculated, Fauci said on CBS. "The vaccine is doing what you want it to do. It's protecting people from getting sick." Read more from Ian Fisher.
Related: Covid-19 Hits 14 Friends in Provincetown in a Show of Delta's Might
Frequent Tests Urged to Help Curb Spread: The delta variant has prompted infectious disease physicians to call for ramped-up Covid-19 testing to prevent infected, vaccinated people from spreading the illness unknowingly. "We need a lot more testing. And we need to think about how do we scale up testing in an effective way," said Carlos del Rio, an epidemiologist at Emory University. "Identifying people before they infect others, I think it's critically important." Read more from Jeannie Baumann.
Florida Becomes U.S.'s Epicenter as Delta Takes Hold: Florida reported 21,683 new cases Friday, breaking a daily record for the entire pandemic, according to data from the CDC. The state's previous one-day record was over 19,100 in early January, according to CDC data. As the highly infectious delta variant has spread, new infections in Florida have skyrocketed in the last month, from a low near 1,000 new daily cases last month. Florida now accounts for one in five new infections in the country. Ian Fisher has more.
'All Hands on Deck' at FDA to Review Pfizer Shot: U.S. drug regulators are taking an "all-hands-on-deck approach" to reviewing Pfizer and BioNTech's shot for full approval in an effort to persuade as many as possible to get immunized. The FDA is "identifying additional resources such as personnel and technological resources from across the agency and opportunities to reprioritize other activities, in order to complete our review to help combat this pandemic surge," a spokesperson said. Fiona Rutherford has more.
More Headlines:
Regeneron Cocktail Wins Nod for Wider Use to Prevent Covid-19
Cornell, Yale Bring Back Face Masks for Indoors as Variant Gains
U.K.'s Delta Roller-Coaster Flips Between Virus Horror and Hope
China Mulls Booster Doses for Elderly, Compromised Amid Delta
Sydney's Virus Cases at Record While Infections Rise in Brisbane
What Else to Know Today
Gilead Allowed to Add Claim to HIV Drug Patent Suit: Gilead Sciences convinced the U.S. Court of Federal Claims to let it add a claim to a suit accusing the CDC of breaching research agreements by applying for HIV drug patents using the company's research. Gilead's amended complaint filed in April adequately claims the CDC violated a 2004 clinical trial agreement by using information from a safety study to seek patent protection for inventions from the trial, Judge Charles F. Lettow ruled. Daniel Seiden has more.
Final Medicare Hospital Pay Rule Nears Release: A final rule setting Medicare hospital payment rates for 2022 has cleared White House review and can be published at any time by the Centers for Medicare Medicaid Services. The proposed rule issued in April would give acute-care hospitals an overall 2.8% jump, or another $2.5 billion, in fiscal 2022. Long-term care hospitals would receive an extra 1.4%, or $52 million under the proposal, which published May 10 in the Federal Register. Read more from Tony Pugh.
Proposal Would Allow States to Pay Home Health Worker Benefits: States would be able to use Medicaid money to pay for home health workers' health and training benefits or union dues under a proposed rule issued Friday by the Centers for Medicare Medicaid Services. The proposed rule, if finalized, would re-establish states' flexibility to allow home care workers and personal care assistants to enroll in—and use Medicaid to pay for—"typical employee benefits" like health insurance or employee training. It would apply to individual health practitioners who rely on Medicaid for their livelihood, generally by taking care of some of the "most vulnerable" beneficiaries in their own homes, the CMS said in a statement. Read more from Fawn Johnson.
More Headlines:
Pharma Gets FDA's Clarity on 'Intended Uses' of Approved Drugs
Vietnam-Era Veteran Gets Claims of Delayed Cancer Care Revived
Michigan Parents Partially Win Case Over Infants Blood Research
Veterans Affairs Dept. Seeks Partner for Health Records Upgrade
Kaiser Permanente Whistleblower Cases Attract U.S. Involvement
Michigan Owner of Cannabis Dispensaries Loses Criminal Appeal
To contact the reporter on this story: Brandon Lee in Washington at [email protected]
To contact the editors responsible for this story: Zachary Sherwood at [email protected] ; Giuseppe Macri at [email protected] ; Michaela Ross at [email protected]
We, and third parties, use cookies and other electronic tools to enhance your experience, analyze site usage, and deliver advertisements tailored to your interests. For more information, please read our Privacy Policy. By clicking "Save Settings", you agree to the use of these tools.
California Residents
To opt out of sharing your information for advertising purposes you can choose below under "Advertising" to opt-out of all or adjust your specific choices. You may also submit a request via this Do Not Sell My Personal Info link.
Your choice regarding cookies on this website:
Required
These cookies are required to enable core site functionality.
Adobe Experience Platform Launch
Google Tag Manager
Performance
These cookies allow us to analyze site usage so we can measure and improve performance. They collect information in a way that does not directly identify individuals.
Google Analytics and Optimize
Adobe Analytics
Advertising
We and our advertising partners use electronic technologies to collect certain types of personal information through our digital properties in order to provide you with relevant advertisements. Personal information may include your IP address, digital identifiers, and your interactions with digital properties.
Bing Ads Remarketing
Twitter Tracking and Advertising
Eloqua
Google Ads
LinkedIn Marketing Solutions
LinkedIn Ads
Facebook Custom Audience
Thank you, your preferences have been saved. You can change your settings anytime using the Cookie Preferences link in the footer of the website.
Thank you, your preferences have been saved. You can change your settings anytime using the Cookie Preferences link in the footer of the website.
By saving your settings you are agreeing to the use of these tools. You can change your settings at anytime using the Cookie Preferences link in the footer of this website.