OPINION: More Obamacare signups improve health care for all - Beaumont Enterprise
Sep. 21, 2021 Updated: Sep. 21, 2021 10:06 p.m.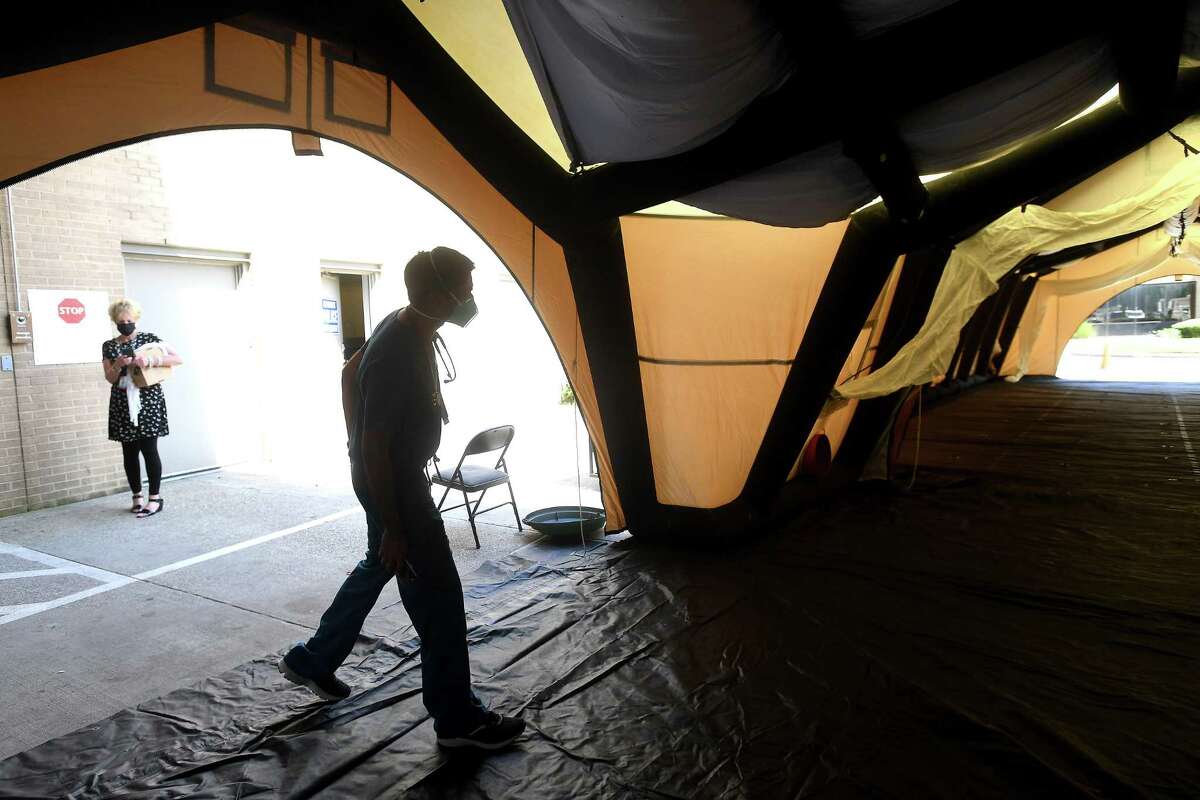 Baptist Hospital resident Nigil Thaimuriyil peeks insidethe mobile medical unit at Baptist Hospital, which was installed as COVID-19 cases rapidly increase, taxing emergency rooms and hospitals. The outdoor tent will be used to treat and release non-COVID patients with minor emergencies. Photo made Friday, July 30, 2021 Kim Brent/The Enterprise
Kim Brent / The Enterprise
With good news on health care in short supply during this terrible pandemic, one encouraging sign has emerged. Nearly 3 million people took advantage of a special six-month period to sign up for subsidized Obamacare coverage that was made more affordable by the COVID-19 relief law. That's an increase of about 20 percent since the end of last year. The new signups bring the total number of people covered under the Affordable Care Act to 12.2 million, an all-time high.
That's good new for the people who are covered — and all Americans. People who have health coverage will miss less work or school due to treatable illnesses. They don't have to go to emergency rooms for ailments or conditions that can be treated earlier. All of that makes them more productive for themselves and everyone. In simple human terms, they suffer less and have a better quality of life, goals that all of us should share.
President Biden said the subsidies in his COVID-19 relief law have helped reduce premiums by about $67 a month for people who were already enrolled. About four in 10 of the new customers during the special sign-up period also found coverage for $10 a month or less. Out-of-pocket expenses have also decreased, with the median deductible cut by 90 percent.
Obamacare was enacted in 2010, offering subsidized private insurance for people who could not get health care benefits from their employer. The law also expanded Medicaid for low-income adults. Most states have taken advantage of that option, although Texas is unfortunately one of the few holdouts. Together, the two programs cover about 27 million people. More doctors and hospitals get compensated for the health care they provide instead of having to eat those costs for the uninsured.
Obamacare isn't perfect, and Congress should not stop trying to improve it. But this is a case where something is better than nothing. Republicans have criticized the program for years, but when they controlled the presidency and Congress during Donald Trump's term, they did not repeal and replace it despite countless promises to do just that as soon as they could. In fact, they never even provided an alternative program.
Unless or until that happens, at least consumers have something to rely on. And most of the people enrolled in Obamacare did not have any other option for health insurance. The bottom line is more health care for more people, and that's progress worth supporting.